Forced to Thrive or Perish with Technology Bets
Shop Talk
Capturing this week's zeitgeist
From "The Common Denominator of IX":
Traditional analytics were primarily built on client-server architectures within the constraints of the ISA-95 framework, where data flow was hierarchical in nature, thereby creating gaps and data silos. In today's Industry 4.0 world, companies are flattening this architecture by enabling machine connectivity and data transfer between IT and OT with many-to-many architectures.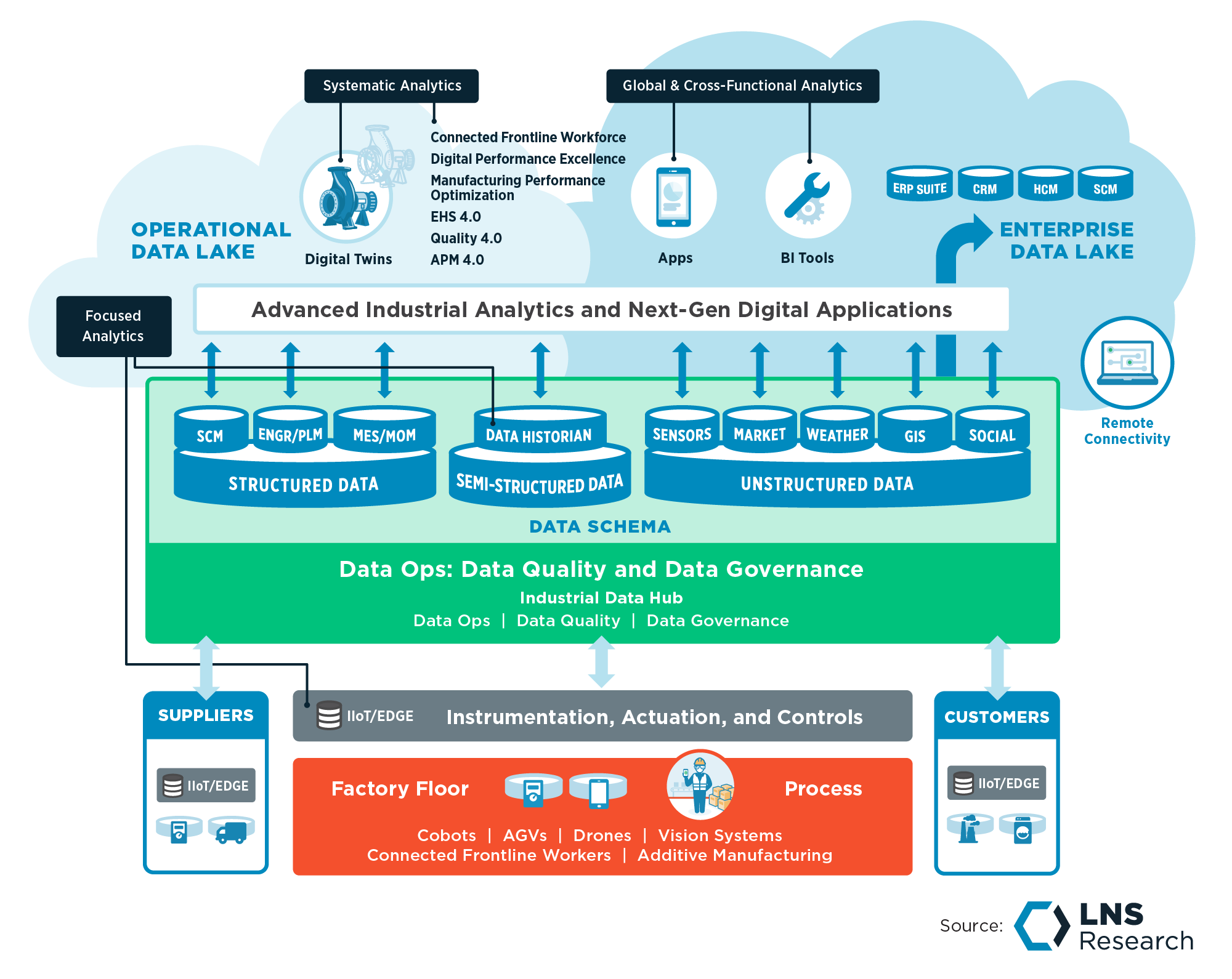 Assembly Line
This week's most influential Industry 4.0 media
50 not out: UK manufacturing success story, Renishaw, reaches a half century
Renishaw began its manufacturing journey back in 1973 when now Executive Chairman, Sir David McMurtry, worked as an Assistant Chief of Engine Design for Rolls-Royce. At the time the company was experiencing a dimensional measurement issue in relation to the manufacture of the Olympus engines that powered the supersonic Concorde aircraft. McMurtry had a reputation as a great innovator and troubleshooter and his ingenuity brought about the creation of a prototype touch-trigger probe for co-ordinate measuring machines (CMMs).
Although today, a significant amount of Renishaw's business is still derived from contact and non-contact measurement systems for CMMs and machine tools, the company now supplies a wide range of metrology systems for calibration, position feedback and gauging, plus associated accessories including styli and fixturing. The company has also applied its core expertise in measurement, manufacturing and process control to develop systems for non-destructive testing using Raman spectroscopy, robots and drug delivery systems for brain surgery, and is also a technology leader in the field of metal additive manufacturing (3D printing).
As metrology equipment has been rolled out on the shop floor, and integrated into automation, process control has become increasingly close knit. The data that results can be utilised to keep processes running and for validation. However, it can also provide visualisation into what's going on in the factory. The company has recently launched Renishaw Central, a data collection system that allows data consolidation from Renishaw and third-party devices. The system provides all the process history of the part as it's gone through the factory.
Why former collective farm is at the heart of Rolls-Royce's future
In early June, Rolls-Royce celebrated the 30th anniversary of its site in Dahlewitz near Berlin. What began as a joint venture with BMW in the early 1990s and an investment of 30 million Deutschmarks – then about $18 million – has grown into a key part of the company's industrial footprint that will in 2023 build upwards of 250 engines for business jet applications.
It is the first time in 54 years and the development of the RB211 that Rolls-Royce has tested a new engine architecture. "It's a big change because you're calibrated on how a three-shaft engine works and you have to build up your knowledge of how an new engine will behave differently," Burr says. Incorporating a suite of new technologies – including carbon-titanium fan blades, Advance3 core, a new combustor, a high-power gearbox – the UltraFan should deliver a 10% fuel-burn improvement over manufacturer's newest engine, the Trent XWB, or 25% over earlier Trent models.
Rolls-Royce has selected a planetary arrangement for the component, against the star-gear layout seen in Pratt & Whitney's geared-turbofan narrowbody engines. This, says Burr, enables the higher bypass ratios necessary for future engine designs.
🦾 Amazon's New Robots Are Rolling Out an Automation Revolution
Proteus is part of an army of smarter robots currently rolling into Amazon's already heavily automated fulfillment centers. Some of these machines, such as Proteus, will work among humans. And many of them take on tasks previously done by people. A robot called Sparrow, introduced in November 2022, can pick individual products from storage cubbies and place them into larger plastic bins—a step towards human-like dexterity, a holy grail of robotics and a bottleneck in the automation of a lot of manual work. Amazon also last year invested in a startup that makes humanoid robots capable of carrying boxes around.
Amazon's latest robots could bring about a company-wide—and industry-wide—shift in the balance between automation and people. When Amazon first rolled out large numbers of robots, after acquiring startup Kiva Systems and its shelf-carrying robots in 2012, the company redesigned its fulfillment centers and distribution network, speeding up deliveries and capturing even more business. The ecommerce firm may now be on the cusp of a similar shift, with the new robots already starting to reshape fulfillment centers and how its employees work. Certain jobs will be eliminated while new ones will emerge—just as long as its business continues growing. And competitors, as always, will be forced to adapt or perish.
Why Toyota Production System is Not Understood
🖨️ Visual quality control in additive manufacturing: Building a complete pipeline
In this article, we share a reference implementation of a VQC pipeline for additive manufacturing that detects defects and anomalies on the surface of printed objects using depth-sensing cameras. We show how we developed an innovative solution to synthetically generate point clouds representing variations on 3D objects, and propose multiple machine learning models for detecting defects of different sizes. We also provide a comprehensive comparison of different architectures and experimental setups. The complete reference implementation is available in our git repository.
The main objective of this solution is to develop an architecture that can effectively learn from a sparse dataset, and is able to detect defects on a printed object by controlling the surface of the printed object each time a new layer is added. To address the challenge of acquiring a sufficient quantity of defect anomalies data for accurate ML model training, the proposed approach leverages a synthetic data generation approach. The controlled nature of the additive manufacturing process reduces the presence of unaccounted exogenous variables, making synthetic data a valuable resource for initial model training. In addition to this, we hypothesize that by deliberately inducing overfitting of the model on good examples, the model will become more accurate in predicting the presence of anomalies/defects. To achieve this, we generate a number of normal examples with introduced noise in a ratio that balances the defects occurrence expected during the manufacturing process. For instance, if the fault ratio is 10 to 1, we generate 10 similar normal examples for every 1 defect example. Hence, the pipeline for initial training consists of two modules: the synthetic generation module and the module for training anomaly detection models.
Innovating Metallurgical Equipment Design to Meet Flotation Plant Layout Challenges
One of the key design principles that holds true is that minimizing the equipment's hydraulic head requirements can potentially minimize the number of pumps needed in a plant. This not only reduces energy demand, but also lowers operational and maintenance costs. Additionally, by minimizing the head requirement, one can free up space for additional process functions needed in the plant.
An example of this principle in action is the design of large flow rate sampling equipment. Traditional sampling systems for flow rates of 35,000 cubic meters or more often require splitting the final tails into two samples, which results in complex reconciliation and recombination processes. However, samplers that can operate at flow rates of up to 40,000 cubic meters an hour and incorporate all sampling stages at one floor level not only simplifies the process, but also saves height in the tails of the plant, reducing the overall cost of construction.
Mapping of multimodality data for manufacturing analyses in automated fiber placement
Automated Fiber Placement (AFP) is an advanced composites manufacturing technique utilized for industrial scale structures. During this process, data is collected from a multitude of modalities spanning numerical analysis of processing parameters to inspection techniques. With data collection existing both in-situ and ex-situ. To ensure interoperability of multimodality data, a mapping is necessary to understand the relationship between these various conditions, and the positioning on the tool surface. This paper defines a mapping technique which enables the evaluation of spatial data from many different sources within the AFP process. Through these mapping techniques, a global array of data is generated that includes all aspects of AFP manufacturing. The developed methodologies are applied to the manufacturing of a doubly curved part. Results showcase the ability to map multimodality data into a uniform format. With the uniform format of the data, further steps can be made to the improvement of fiber paths and processing parameters.
Capital Investment
Major factory investments (>$1B USD) and line commissions
🏭 Rondo Energy and Siam Cement Group Plan 90GWh Battery Factory, World's Largest
Siam Cement Group ("SCG") and Rondo Energy, Inc. ("Rondo") today announced plans to expand the production capacity of Rondo Heat Battery storage at SCG's facility to 90 GWh per year, larger than any current battery manufacturing facility worldwide. Mass production is now underway with a capacity of 2.4 GWh per year already online today.
The 90 GWh of planned capacity will result in 12 million tons of CO2 savings annually, equivalent to removing over 4 million ICE vehicles to the road each year.
🏭🇺🇸 Anovion Technologies Announces Plans for $800 Million Initial Investment in New Manufacturing Facility in Southwest Georgia
Anovion Technologies (Anovion), the climate tech-driven advanced materials company, today announced that it has selected Decatur County in Southwest Georgia as the location of the Company's first large-scale expansion of manufacturing capacity for production of its premium synthetic graphite anode materials. Anovion chose this location for its initial 1,500,000 square foot facility based on its proximity to existing and planned low- and carbon-free energy sources for power, short supply chains, access to existing rail infrastructure, highly valuable skilled workforce, and business-friendly environment, making Decatur County an ideal fit for Anovion's new expansion site.
Business Transactions
This week's top funding events, acquisitions, and partnerships across industrial value chains
Dexory raises $19M for its robot-powered warehouse monitoring platform
The Series A round was led by Atomico with participation from several returning investors. Among returning investors was the venture capital arm of logistics giant Maersk A/S. Maersk is also a customer.
Dexory uses internally developed robots to scan warehouse shelves automatically and measure how much merchandise they hold. To reach goods located on high shelves, the startup's robots can extend their height to 12 meters or about 39 feet. According to Dexory, its technology enables companies to perform warehouse scans up to 1,000 times faster than is possible with traditional approaches. The robots use depth cameras and lidar devices to map out the goods in a company's warehouses. Its machines' sensors can detect not only large items such as pallets and parcels but also barcodes. The robots send the data they collect to a cloud-based application called DexoryView. It generates a visualization of warehouse shelves that logistics teams can review to understand inventory availability.
Material Evolution raises $19M to decarbonize the cement industry
Founded in 2017, Material Evolution today announced it has raised £15 million ($19 million) in a Series A round of funding to scale production of its low-carbon cement, which it says has an 85% lower carbon-footprint than normal Portland cement. The company's Series A was led by Kompas VC, with participation from Norrsken VC, Circle Rock, and SigmaRoc.
Gradient Comfort Raises Additional $9 Million in Series A Financing Led by Climate Investment
Gradient Comfort, a company built by thermal scientists to rethink heating, ventilation, air conditioning (HVAC) and build products that are good for the planet and great at cooling and heating homes, announced today that it closed a Series A follow-on round of funding of $9 million, bringing its total Series A funding to $27.5 million. The round is led by Climate Investment ("CI"), a specialist decarbonization climate investor. Cindi Bough, Managing Director Ventures at CI, will join the Gradient Comfort Board and Rick Cutright, Technology Director at CI will join as an observer.
🦾 Realtime Robotics Funded an Additional $9.5 Million to Meet Increased Demand for Technology that Transforms Manufacturing
Realtime Robotics, the leader in collision-free autonomous motion planning for industrial robots, today announced that it has secured an additional $9.5 million in funding from Shinhan GIB and Kyobo Life Insurance.
Driven by the strong response to its RapidPlan industrial robotics motion control and collision avoidance software, Realtime will use this additional investment to drive further product enhancements, incorporate feedback from customers and partners, and scale to support additional go-to-market efforts.
🚀 Ramon.Space Raises $26M to Fuel the New Era of Space Computing Infrastructure
Ramon.Space, a leader in space-resilient computing infrastructure, announced that it has raised $26M in funding from Ingrasys, a subsidiary of Foxconn Technology Group and the world's largest manufacturer of server and storage platforms, and the Strategic Development Fund (SDF), an Abu Dhabi-based strategic investment firm, with additional participation from existing investors, Grove Ventures, Deep Insight and UMC Capital. The investment from Ingrasys follows the recently announced strategic agreement to manufacture Ramon.Space's computing products globally. The newly secured funding will enable Ramon.Space to grow the organization and continue to commercialize its space-resilient computing platform, reach new markets, and solidify its global presence in response to the surge in demand for advanced computing solutions in space.
🖨️🚀 Agile raises $13 million to expand production
Agile Space Industries raised $13 million to expand production and development of propulsion systems. The seed funding round, announced June 23, was led by Caruso Ventures. Participants included Lockheed Martin Ventures, Greater Colorado Venture Fund, CORI Innovation Fund and Greenline Ventures. Durango, Colorado-based Agile has raised more than $18 million to date.
With the latest funding, Agile plans to expand its metal additive manufacturing and chemical propulsion testing infrastructure, Pearson said. "In addition, we will be looking to accelerate some of our product development activities."
RENATUS ROBOTICS Inc. announces $2 million in seed funding to shape the future of fully unmanned and autonomous logistics infrastructures, starting with e-commerce
RENATUS ROBOTICS Inc., a logistics startup, has announced the successful closing of its initial seed round. The company secured $2 million in funding from e-commerce logistics company e-LogiT co., ltd. and CVC fund Dawn Capital. This key funding milestone is a testament to the industry's faith in RENATUS ROBOTICS' groundbreaking vision to revolutionize logistics through its end-to-end automation technologies starting with their automated robot storage system RENATUS. The company's eventual goal is to create a fully unmanned and autonomous logistics network under its motto, "Toward a Creative Society."
Nordson Corporation Announces Agreement to Acquire ARAG, Expanding its Core Dispense Capabilities into the Attractive Precision Agriculture Market
Nordson Corporation (Nasdaq NDSN) today announced that it has entered into a definitive agreement to acquire ARAG Group and its subsidiaries ("ARAG") in an all-cash transaction that values ARAG at an enterprise value of €960 million.
"The acquisition of ARAG emphasizes Nordson's disciplined capital deployment strategy, which is focused on high-quality niche leaders serving attractive growth markets that are additive to Nordson's existing lines of business and support long-term shareholder value creation," said Joseph Kelley, executive vice president and chief financial officer. "The transaction is expected to close in Nordson's fourth quarter fiscal 2023, funded through a combination of cash on hand and financial debt."
Arkema broadens its range of high performance polymers with the acquisition of a controlling stake in PI Advanced Materials
Proposed acquisition of Glenwood Private Equity's 54% stake in the listed South Korean company PI Advanced Materials (PIAM), for €728m enterprise value. The company will be fully consolidated in Arkema's accounts.
With more than 30% global market share, PIAM, based in South Korea, is the global leader of polyimide films for flexible printed circuit boards and graphite sheets used in the high growth and high margin markets of mobile devices and electric vehicles. PIAM's ultra-high performance polyimides are cutting-edge materials offering exceptionally high temperature resistance, dimensional stability, flexibility and electric insulation. They are increasingly used in attractive markets such as electric vehicles, consumer electronics, semiconductor manufacturing and other advanced industrial applications. They benefit from the growing need for miniaturization, higher thermal management and increased safety and durability.
Imec and ASML sign Memorandum of Understanding (MOU) to support semiconductor research and sustainable innovation in Europe
Imec, a leading research and innovation hub in nanoelectronics and digital technologies, and ASML Holding N.V. (ASML), a leading supplier to the semiconductor industry, today announce that they intend to intensify their collaboration in the next phase of developing a state-of-the-art high-numerical aperture (High-NA) extreme ultraviolet (EUV) lithography pilot line at imec.
The pilot line is intended to help the industries using semiconductor technologies to understand the opportunities that advanced semiconductor technology can bring and have access to a prototyping platform that will support their innovations. The collaboration between imec, ASML and other partners will enable the exploration of novel semiconductor applications, the potential development of sustainable, leading-edge manufacturing solutions for chip makers and end users, as well as the development of advanced holistic patterning flows in collaboration with the equipment and material ecosystem.
Lockheed Martin And GlobalFoundries Collaborate To Advance Innovation And Resiliency Of Chips For National Security
Lockheed Martin (NYSE LMT) and GlobalFoundries (Nasdaq GFS) (GF) announced a strategic collaboration to advance U.S. semiconductor manufacturing and innovation and to increase the security, reliability and resiliency of domestic supply chains for national security systems. This collaboration will enable Lockheed Martin to more quickly and affordably produce secure solutions that increase the competitiveness and national security of the United States.
The companies will leverage GF's differentiated technology and trusted manufacturing practices to increase anti-fragility in microelectronics systems and supply chains. The collaboration will explore critical needs in semiconductor innovation and secure manufacturing across a range of advanced and next-generation chip technologies, including 3D heterogeneous integration for optimized chip packaging that improves performance; silicon photonics for low-power and high-speed data transport; and gallium nitride on silicon to help chips work at higher temperatures. The companies will also work to develop a chiplet ecosystem to produce chips more rapidly and affordably.
The collaboration between Lockheed Martin and GF directly supports the CHIPS and Science Act's objectives of increasing traceability, provenance, and onshore production of critical semiconductor technologies to strengthen national and economic security and domestic supply chains.