Automotive Industry Clusters Across the World
While some industries are going through a massive reorganization toward decentralization (Internet/Web3), manufacturers still tend to cluster in regions. A recent piece in the Financial Times indicates that Ford is choosing Tennessee for its electric vehicle factory in order to be closely located to the rest of its manufacturing geographic footprint. The piece also provided a graphic of the 'Automotive Alley' in the United States which extends from Detroit down through Alabama. This clustering of suppliers, technical centers, and manufacturing facilities creates a robust set of infrastructure to expand knowledge of automotive engineering within the United States.
But does similar clustering exist in other leading automotive vehicle producing countries across the world? Let's take a look at five of the leading automotive nations: China, United States, Japan, Germany and Mexico. The countries are listed in order by motor vehicle production in 2019.
China (25.7mm vehicles)
China has a vast automotive manufacturing footprint needed to produce over 25 million vehicles each year. The location of their plants seems to map pretty closely to population density. Perhaps the only outlier are facilities in Central China and the Hubei province in particular. Recently, Tesla decided to place their second gigafactory in Shanghai that will also include engineering and design teams.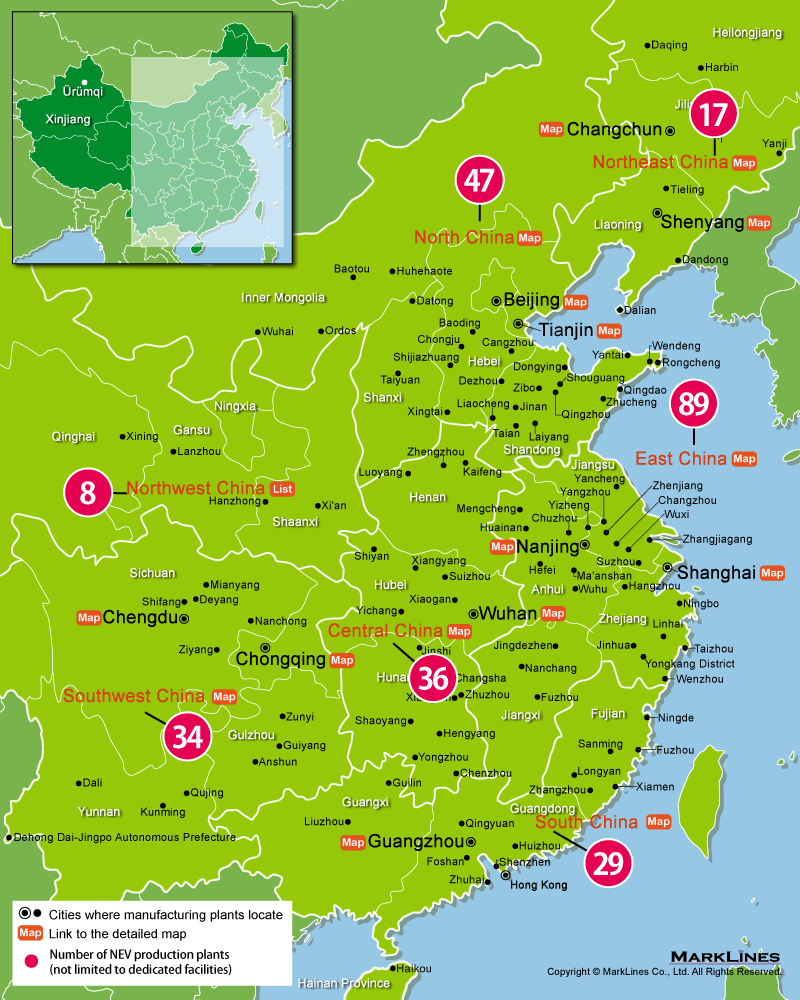 United States (10.9mm)
Within the US, Detroit still maintains the largest density of manufacturing facilities due to the "Big 3" domestic manufacturers of General Motors, Ford, and Stellantis. In the southern part of 'Automotive Alley' (Kentucky, Tennessee, Alabama) most of the foreign automotive leaders have developed a manufacturing footprint. Out West, the upstart electric vehicle manufacturers have taken root. Unlike in China, Tesla decided to place Giga 5 in Austin, Texas which is not a traditional automotive cluster.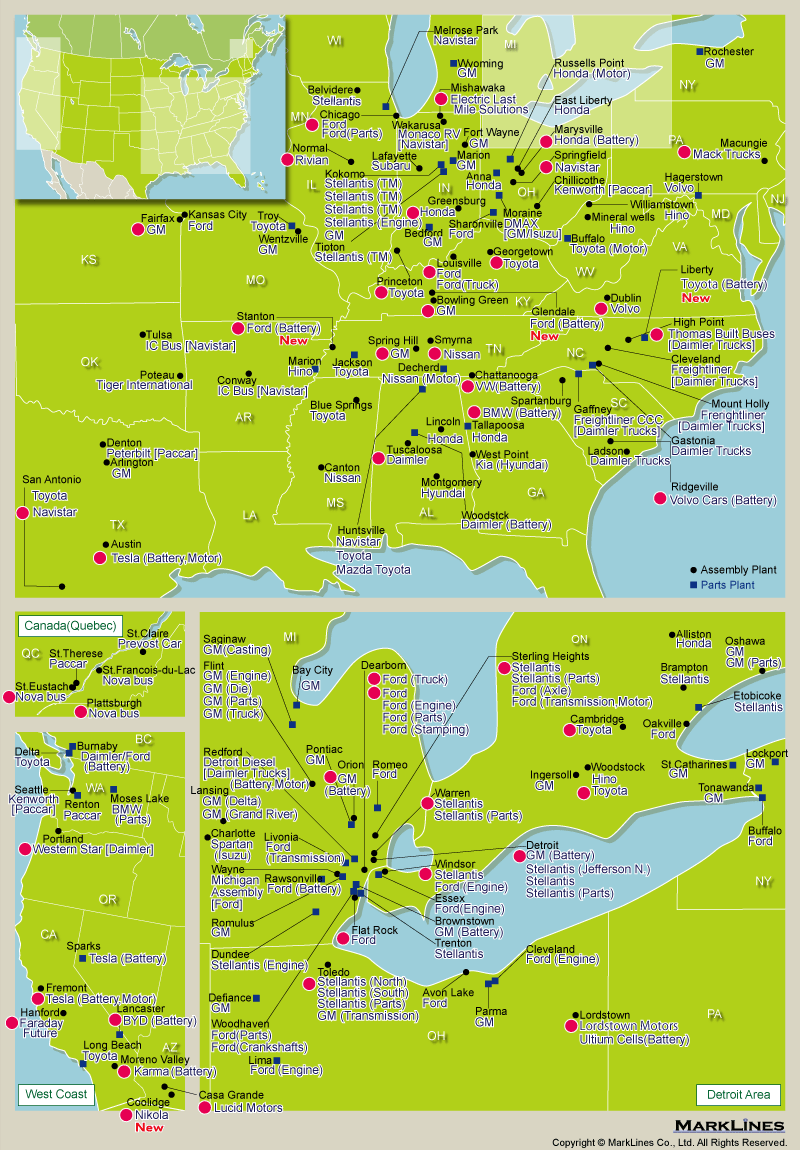 Japan (9.7mm)
In Japan, Toyota and Honda dominate the foot print. Toyota, just outside Nogoya, has a dense cluster of Toyota plants. Honda, based in Tokyo, maintain a large presence in the metropolis. Overall, automotive manufacturing is evenly dispersed throughout the country. Tesla does not appear to have any locations in Japan.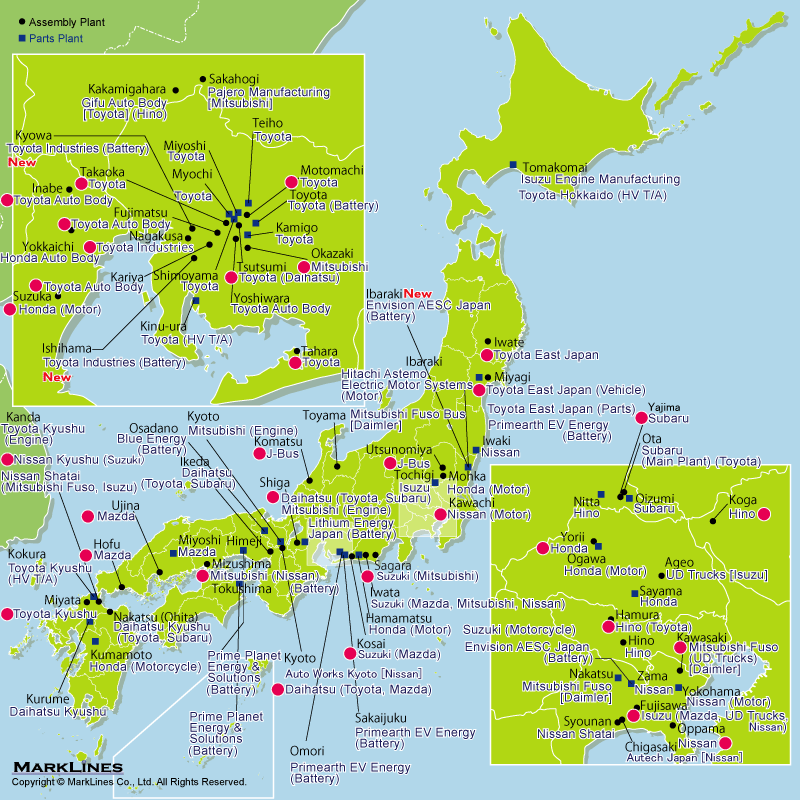 Germany (4.7mm)
Germany's automotive footprint is similar to Japan in that it is spread out across the country. Bavaria, in the Southeast, is home to a number of BMW facilities. Baden-Württemberg contains a large presence from both Audi and Daimler. Once again, Tesla bucks the trend of locating in a traditional cluster, and has picked a location outside Berlin for its upcoming gigafactory in Germany.
Mexico (4.0mm)
Lastly, Mexico manufactures a sizable amount of vehicles each year (number six overall) to serve the US market. Global automotive manufactures have tended to cluster in the central states of Guanajuato and Mexico City. Closer to the US border, Monterrey also has a cluster of automotive facilities. Tesla does not have a presence in Mexico.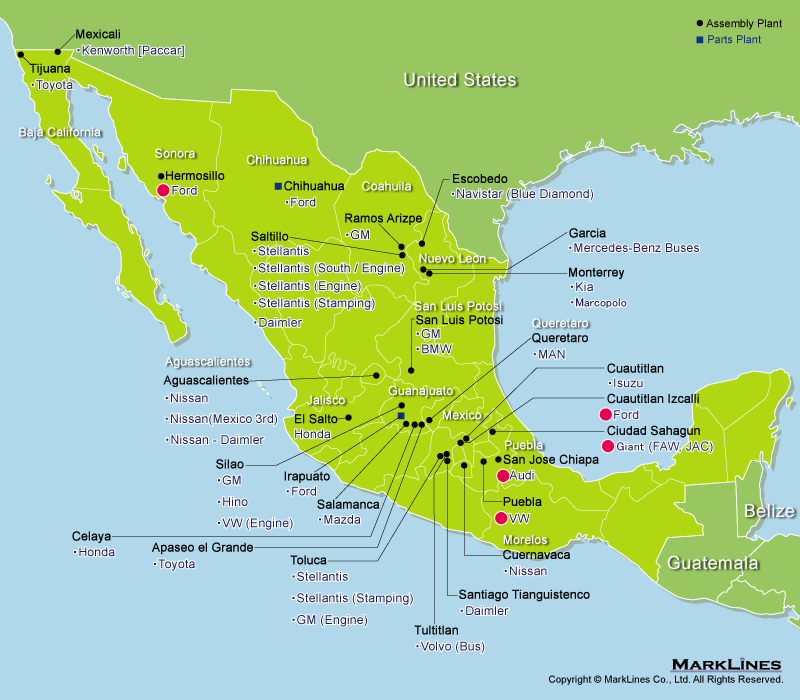 Nexus
Tying it all together, the automotive footprint is vast, spans the globe, and tends to regionally cluster. To reach each local cluster, air travel is necessary. Nothing shows it better than a map of direct flights from the nexus of the industry: Detroit, Michigan, US. Detroit remains home to some of the largest automotive OEMs, suppliers, and research centers from all the global players. Detroit's airport DTW is global hub but also has a number of flights that map nicely to the automotive supply chain: Monterrey (Mexico), Querétaro (Mexico), Munich (Germany), Nagoya (Japan), and Shanghai (China).
Visual Inspection
Acoustic Monitoring
Assembly Line
Surge Demand
Microsoft creates a benchmark dataset for few-shot learning with object recognition. DeepMind acquires a robotics simulator. MIT launches a course on how to excel in Industry 4.0.