Rate of Tech Change Impacting Manufacturing Performance
The Fourth Industrial Revolution is materializing before our eyes. It is an incredibly exciting time as a technologist to work on building a production line in the metaverse and then implementing it in the physical world. However, the rate of technological change of within a factory is tough for even me to keep up. The manufacturers that are able to harness Industry 4.0 tech such as 5G, cobots, digital twins, and AI within an end-to-end process are starting to separate themselves in terms of business performance.
In this week's digest, a few recent reports highlight the challenges manufacturers are facing with industrial cybersecurity and manufacturing automation. The top challenge is hiring and training a skilled workforce, largely due to needing to keep up with the rate of change in technology being integrated into factories today. The skills required for a productive manufacturing workforce are dramatically different from those needed a decade ago. Nowadays, robotics talk to one another while working alongside human operators and present different problems when things go awry. Rather than hit the machine with a wrench to get it back running, computer code needs to be debugged, networking needs to be reset, or a special computer chip needs to be replaced. These challenges in maintenance and repair hamper productivity and reduce flexibility for management. This week's articles go deeper into these challenges.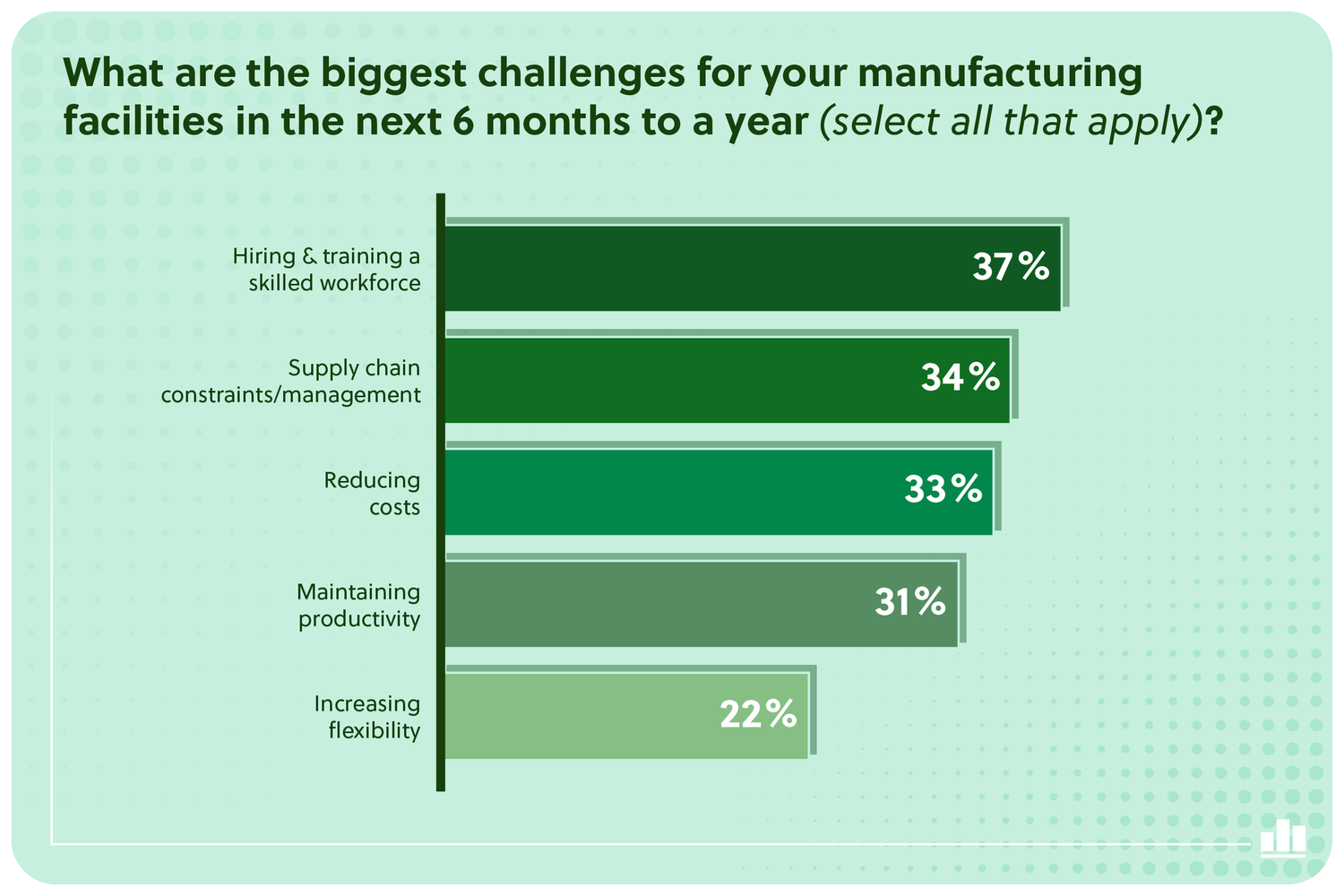 Assembly Line
Capturing this week's trending industry 4.0 and emerging industrial technology media
Veo Robotics' 2022 Manufacturing Automation Outlook
To optimize their investments, manufacturers must create an environment conducive to this new hybrid workplace. To do this, manufacturers must create environments where robots and humans can work nearby as collaborators to optimize space and increase productivity. Ironically, however, as manufacturers are increasingly seeking ways to automate their processes, antiquated safeguarding measures are, in many cases, hindering their ability to embrace it fully.
In fact, manufacturers surveyed by Veo cited many areas that they would like to automate but cannot because of safeguarding complexities or obstructions. Areas mentioned include, operator load stations (24%) welding & soldering (18%), primary packaging (17%) and palletizing/depalletizing (13%).
The State of Industrial Security in 2022
This report shows nearly all — 94% — of organizations have experienced at least one security incident, which likely impacted their industrial IoT infrastructure. These incidents had significant impact on organizations, with 87% of them reporting their operations were impacted for one day or more. The incidents involved a wide range of attacks, with web application, malicious external hardware/removable media, and distributed denial of service attacks being the most frequent.
How Amazon learned to cut its cardboard waste
David Gasperino, an Amazon principal research scientist, led the technical development of PackOpt, which is helping Amazon's stakeholders to not only minimize the amount of "air" shipped to customers, but also helping Amazon deliver on its Climate Pledge commitment to reaching net-zero carbon emissions across its business by 2040.
"To create an optimal set of boxes, you need to select a small subset of columns to pack all of the shipments, and those columns must lead to the smallest overall box volume when you sum it all up," explains Gasperino. It is a hard challenge — literally. "This problem belongs to a theoretical class of problems called 'NP hard'
Industrial CT Scanning: Automated Defect Detection for Turbine Blades | Synopsys
Network redundancy inside the factory: Why it matters and how to design it
Today, manufacturing is experiencing another inflection point. This time, the technology that's changing everything is high-performance 5G systems which itself can enable a powerful interplay of disruptive, enabling technologies such as distributed cloud and edge computing, massive IoT, AI and automation, among others.
At Ericsson, we believe the convergence of cellular 5G systems with wired Ethernet-based time-sensitive networking (TSN) delivers the most optimal redundant network design for today's manufacturing enterprises, offering fully deterministic end-to-end connectivity, and meeting all key requirements on industrial communication technology. We believe this model will be essential to realizing all major industrial automation use cases in the future.
The Growing Need for Private 5G Networks in Manufacturing Plants
Traditionally, data generated from wired & Wi-Fi-based instrumentation devices installed in manufacturing plants are processed either on the local premises or in the public cloud to control the behavior of these devices. Typically, these devices require highly reliable connectivity for quick communications, a latency of less than 1ms, secure data management and data storage, proper traffic isolation between different critical applications running in the factory, and guaranteed QoS for day-to-day operations managed over the private network.
With potentially hundreds of thousands of critical sensors and control systems used in larger factory environments, 5G private network implementations are increasingly finding a way. 5G networks will be powered by massive, distributed computing, located closer to sensors and machines, and capable of applying artificial intelligence and machine/deep learning algorithms to handle huge amounts of industrial and critical data within the factory environment. A 5G factory has a private network design with its own 5G network built in, where 5G devices, RAN, and core are integrated into a complete ecosystem from end-to-end. A private 5G network does not interface with or leverage resources and functionalities from the public 5G MNO network. However, a private 5G frequency is used when a factory creates its own private 5G network, whereas an MNO's publicly licensed frequency can be used if the MNO builds a private 5G network for a factory. MNOs' public 5G networks can be used as backup to an existing private 5G network, enabling it to connect all the manufacturing equipment and devices installed in a factory environment to a public 5G network if the private 5G network fails for any reason.
Capital Expenditure
Tracking this week's major mergers, partnerships, and funding events in manufacturing and supply chain
BMF Raises $43M Series C to Continue Driving Convergence of Additive Manufacturing and Miniaturization
Boston Micro Fabrication (BMF), the pioneer in microscale 3D printing systems, today announced the successful closing of a Series C round of funding, totaling $43 million. The round was led by Shenzhen Capital Group Co., Ltd. ("SCGC"). BMF will use the funding to advance product development, sales and marketing and customer support as the company continues to expand and serve its global customer base.
Blackhorn Ventures Leads Datch's Series A with $10 Million Investment
In just a few years, we have rapidly expanded, introducing our technology into Fortune 500 and other industry-leading enterprises, and now work with a range of sectors: utilities, energy, manufacturing, mining, and aviation. Continuing with this momentum, we are proud to announce our latest funding round of $10 million. Blackhorn Ventures, an Industry 4.0 fund investing in software companies redefining the industrial sector, led the capital raise, which was also supported by Blue Bear Capital, Boeing HorizonX, Park Partners, Lorimer Ventures, and others.
The funding will be used to expand Datch's platform capabilities, introduce new integration tools, and scale our enterprise operations and support. Our goal is to provide our customers with the toolkit to map their unique processes and connect Datch to their systems-of-record with ease.
Juniper Ventures' Series B Investment in ZEDEDA
Juniper Ventures is thrilled to announce its Series B investment in ZEDEDA, a pioneer in edge virtualization. Since the original investment in 2018, we continue to be impressed by ZEDEDA's execution and its team's ability to meet the ambiguous and evolving demands of today's enterprise edge market. ZEDEDA's cloud-native solution eliminates vendor lock-in and simplifies the deployment and full lifecycle management of both hardware and software applications at scale. The platform supports a diverse set of hardware with Zero Trust security and is scalable through flexible application deployment models — enabling users to leverage existing infrastructure investments alongside modern, cloud-native innovations.
Geomiq raised $8.5M to Digitize Manufacturing
We've raised $8.5m to digitize global manufacturing and deliver industry leading service levels for Engineers and Procurement teams. With this funding we're expanding in to Europe, accelerating our product plans, and growing our amazing team