Scaling Smart Factory Tech and Cyber-Physical Systems
Shop Talk
Capturing this week's zeitgeist
From Short Circuited: Electrical Engineering Degrees in the United States:
Many areas of science and engineering help power innovation, growth, and competitiveness, but electrical engineering (EE) is one of the most critical, given the importance of electronics and computing. This is why it is concerning that U.S. bachelor's, master's, and doctorate EE degrees have declined as a share of all degrees, while the number of American citizens and permanent residents obtaining EE degrees has grown only slightly.

Moreover, the CHIPS and Science Act will likely lead to an increase in the demand for EE jobs. If the United States wants to fill these and future jobs, it will need to produce more graduates in EE. In addition, if the United States wishes to outcompete China in advanced industries, it will require strong EE capabilities. Absent changes in policy and administration of research universities to generate more EE degrees, the United States will likely continue to fall behind in EE-related industries.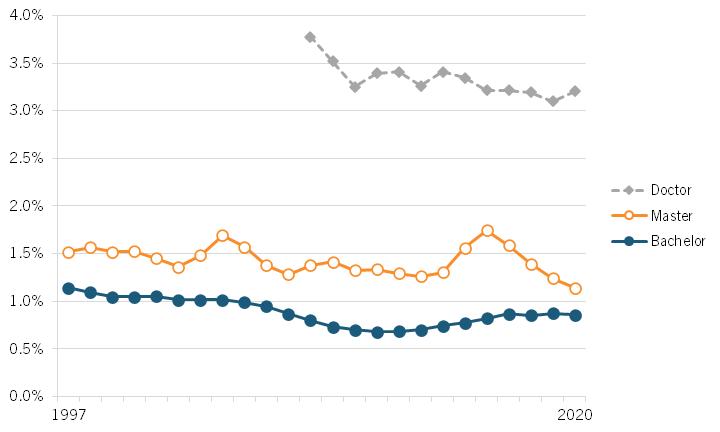 Materialise takes you through their predictions on the four biggest trends driving additive manufacturing forward over the next twelve months. These trends align well with our latest commentary on the 3D printing industry, 3D Nano Desktop Stratasystems. For securing 3D printing data, SLM Solutions and Assembrix have made progress through the use of blockchain at Nanyang Polytechnic's Additive Manufacturing Innovation Centre.
Assembly Line
This week's most influential Industry 4.0 media
🚛 Driving change: how hybrid carriers will finally unlock economies of scale in trucking
The future of trucking is neither traditional brokers nor asset carriers; it is a new model, which we will call the hybrid carrier.
This model gets materially better with scale, using technology to address the industry's existing limitations and the reasons that trucking remains so fragmented. Hybrid carriers have a digital truckload marketplace, a universal pool of trailers, online drivers and equipment, and broad industry integrations, all running on a technology platform that uses data and AI to orchestrate everything, manage carrier quality, and generate actionable insights for shippers. By removing silos around truck and trailer capacity, these truckload platforms will benefit from network effects and other economies of scale, making them better and cheaper at scale and giving shippers compelling reasons to consolidate their freight spend for the first time.
The key ingredients of a hybrid carrier include
Universal pool of trailers, all sensor-enabled and available to the carrier network for both live and drop-and-hook loads.
A single digital marketplace for truckload volume and capacity.
All drivers are online and connected throughout the job workflow.
Digital integrations with shippers for seamless communications and data sharing.
Technology platform to orchestrate supply & demand AND load execution.
👖 Unspun Unveils New 3D Weaving Machine For The Sustainable Microfactory Of The Future
Unspun launched in 2015 with an initial mission to help reduce waste at the consumer end. The company leverages 3D scanning to precisely fit jeans for individual buyers, and manufactures them on demand. Between the custom fit and the high but relatively affordable price tag of $200 or so, presumably consumers would be motivated to keep their jeans practically forever.
The new round of funding will "support implementation of unspun's innovative 3D weaving technology Vega™, which will help brands realize a zero-inventory, onshored, circular and automated supply-chain for woven products," unspun reports. The 3D weaving machine is a robotics-enabled device inspired by additive manufacturing principles. It can weave a pair of pants to order in 10 minutes, from scratch. The 3D machine is fed directly with yarn. No fabric inputs are involved. According to unspun, just a few minutes' worth of finishing steps are needed to complete the process.
"By producing in micro-factories powered by Vega™, multiple traditional manufacturing steps—which result in high order quantities, long lead times, increased transport emissions, and excess inventory waste—are eliminated," unspun explains.
Isolation in Industrial Robot Systems
How Rolls-Royce Scales Smart Factory Tech Worldwide
Rolls-Royce began working with PTC to conduct multiple pilots at varying levels of complexity, hoping to discover technologies that could scale to up to a dozen different plants. Deciding which pilots to scale ultimately came down to the opinions of the early adopters.
Successfully implementing the technology at scale comes down to:
Vendors, business leadership and technology leadership aligning at the highest levels
Extended technology teams successfully explaining new implementations to management
Diverse left-brain/right-brain thinking to understand tech deployments holistically and fully engage user communities
Jayasekara says Rolls-Royce is 'ruthless' when assessing the value of a smart factory technology, like ease and potential breadth of deployment. If the company has hundreds of a certain type of machine used across multiple plants, a smart factory upgrade can improve its performance, that obviously stands a greater chance of attracting funding compared to upgrades for a lesser-used machine.
Rolls-Royce achieves agile delivery by rolling PTC advisors, Rolls-Royce experts and managed service teams into "sprint teams" that can change the scope of a deployment as they better understand the technology, rather than running smart factory deployments like traditional IT deployments with inflexible milestones.
Comau uses Intrinsic Flowstate to automate the assembly of rigid components
A guideline to implement a CPS architecture in an SME
In Industry 4.0 context, data valorisation allows industries to develop new capabilities, create competitive advantages and achieve manufacturing sustainability, but technological infrastructures are needed to support system interoperability and to manage datas. These infrastructures are not enought mature in many industrial environments, especially in small and medium enterprises (SMEs). Technology integration is challenging due to system and information heterogeneity , and even more so in SMEs that have constraint environment and which lack specific research study. Although several approaches have been proposed, the literature lacks empirical evidence of the adoption of new technologies in SMEs. This paper presents a guideline for implementing a Cyber-Physical system (CPS) architecture in an SME and its application in an organic flour mill in Montreal. The case study provides evidence of the possibility to implement a CPS architecture in SMEs and can serve as an inspiration for SME to develop an Industry 4.0 strategy.
3DGPT - your 3D printing friend & collaborator!
Capital Expenditure
This week's top funding events, acquisitions, and partnerships across industrial value chains
🫧 Accelerating Carbon Removal with our $100m Series B
Our new funding was led by General Catalyst. The firm is deeply committed to investing in 'responsible innovation' companies that can deliver outsized financial and societal returns. General Catalyst's CEO and Managing Director Hemant Taneja will join our board alongside Ryan Panchadsaram from John Doerr's office (also, authors of Speed and Scale). We're proud that Lowercarbon, Exor Ventures, Kinnevik, Thrive Capital and Elad Gil also invested as part of the round.
We'll be using the new funding to accelerate our carbon removal deliveries. After deploying increasingly advanced pilot processes in 2021 and 2022, we began ramping up in 2023. Our primary focus is expanding bio-oil production and transport capacity, and since the beginning of the year we've increased tons of carbon removal delivered per week 5x.
Norway's Kongsberg Digital raises €84.1M to digitalise sustainable operations across industries
Kongsberg Digital, an industrial software company that claims to shape the future of work by changing how businesses design, operate and maintain their assets, announced on Thursday, June 1, that it has raised $90M (nearly €84.17M) in a fresh round of funding. The investment came from Shell Ventures and Idékapital. The new ownership structure will help Kongsberg Digital achieve its goal of enabling smarter, safer, and greener operations across industries and on a larger scale.
⛏️ Ceibo Raises $30 million to Scale Advanced Copper Extraction Technology
Ceibo, an advanced copper extraction technology company, today announced it has raised a $30 million Series B financing. The round was led by Energy Impact Partners, with participation from a syndicate of new mining-focused investors including CoTec Holdings, Audley, Orion Resources, Unearth and Pincus Green along with existing investors Khosla Ventures and Aurus Ventures. The funding round will enable Ceibo to accelerate the scale-up of its proprietary technology, drive several on-site trials and prove the technology's value and versatility at scale.
🔗 Sourcemap Raises $20M Series B to Launch Real-Time Supply Chain Mapping and Monitoring Software
Sourcemap, the leading global provider of supply chain mapping and monitoring software, today announced the close of a $20 million Series B investment led by Energize Ventures with participation from the E14 Fund. Sourcemap will leverage this latest funding to further expand its global footprint and add business-critical solutions to its supply chain mapping and monitoring software suite.
MatrixSpace Secures $10M Series A Funding
MatrixSpace, a leader in AI collaborative sensing solutions, announces $10M raised in Series A funding. This brings the company's total funding to $20M since its first year of operation in 2020 and will enable it to accelerate technology advancements, customer adoption and revenue growth. The round was led by the Raptor Group, a highly successful venture and private investment fund with a strong track record in technology, enterprise, and sports companies. Intel Capital also participated, as well as a prominent set of technology executives.
🔐 Galvanick Announces $10 Million in Seed Funding for Its Industrial Cybersecurity Platform
Galvanick, the cybersecurity solution for protecting industrial infrastructure against cyber attacks, today announced its $10 million seed round. Major investors included MaC Venture Capital, Founders Fund, Village Global, Countdown Capital, Hanover Technology Investment Management, Shrug Capital, 8090 Industries, and over 25 angel investors specializing in cybersecurity, manufacturing, finance, and defense. Galvanick plans to use the capital to make additional core hires, and expand use of its initial product – an industrial-first Extended Detection & Response (XDR) platform – to additional advanced manufacturing and critical infrastructure facilities.
☢️ Proxima Fusion captures a stellar €7 million raise to fund the design of fusion power plants
Munich-based Proxima Fusion has raised €7 million in Pre-Seed funding to fuel the development of a high-performance stellarator in a step towards building a first-of-a-kind fusion power plant within the 2030s. The fundraising was led by Plural and UVC Partners, and includes High-Tech Gründerfonds (HTGF) and the Wilbe Group.
MARTECH3D Secures £500,000 Seed Round Investment from Blackfinch Ventures
MARTECH3D, the 3D marketing and sales platform for B2B manufacturers, has received £500,000 in seed round investment from Blackfinch Ventures to support their next stage of growth. The funding will enable them to immediately double the size of their team to increase customer capacity and fast-track major new feature releases.
🦾 Blackford Capital Acquires Industrial Automation Leader PACIV
Blackford Capital ("Blackford"), a leading lower middle market private equity firm, announced today the acquisition of PACIV which specializes in industrial automation solutions. PACIV is a leading full-service provider of industrial process automation and systems integration primarily for manufacturers in the pharmaceutical and life sciences industries. The company was founded in 1997, and operates offices in San Juan, Puerto Rico, Indianapolis, Indiana, and in Cork, Ireland. Terms of the transaction were not disclosed.
🦾 KKR to take machinery maker Circor private in $1.6 billion deal
KKR & Co Inc (KKR.N) will buy industrial machinery maker Circor International Inc (CIR.N) in a $1.6-billion deal and take it private, as the private equity firm looks to double down on investments in the flow-control market. "KKR will help us expand our presence in the flow-control space," Circor's Chief Executive Officer Tony Najjar said.
✈️ GE nears deal with India's Hindustan Aeronautics to co-manufacture fighter jet engines
General Electric is in final discussions to cement a partnership with India's Hindustan Aeronautics Ltd. to co-manufacture jet engines in the country, CNBC has learned. The engines would be used utilized in fighter jets for India, the people said.
The deal, expected to be signed either before or during a visit by Indian Prime Minister Narendra Modi to Washington, D.C., later this month, would give the Indian aerospace company access to GE's highly coveted F414 engine, according to two people familiar with the deal who requested anonymity to discuss not-yet-public details.
🚙🔌 General Motors Doubles Down on Commitment to a Unified Charging Standard and Expands Charging Access to Tesla Supercharger Network
General Motors Co. (NYSE: GM) announced today a collaboration with Tesla to integrate the North American Charging Standard (NACS) connector design into its EVs beginning in 2025. Additionally, the collaboration will expand access to charging for GM EV drivers at 12,000 Tesla Superchargers, and growing, throughout North America. This agreement complements GM's ongoing investments in charging, reinforcing the company's focus on expanding charging access across home, workplace, and public spaces and builds on the more than 134,000 chargers available to GM EV drivers today through the company's Ultium Charge 360 initiative and mobile apps.
The Tesla Supercharger Network will be open to GM EV drivers starting in 2024 and will initially require the use of an adapter. Beginning in 2025, the first GM EVs will be built with a NACS inlet for direct access to Tesla Superchargers without an adapter. In the future, GM will make adapters available for drivers of NACS-enabled vehicles to allow charging on CCS-capable fast charge stations.
🔋🏭 Palantir and Panasonic Energy of North America sign multi-year agreement
Palantir Technologies Inc. (NYSE PLTR) ("Palantir") and Panasonic Energy Co., Ltd., a Panasonic Group Company, a global leader in high-quality lithium-ion batteries, today announced a multi-year partnership to deliver an operations "Smart Factory" for the Panasonic Energy of North America ("PENA") facility in Sparks, Nevada. The company has selected Palantir's Foundry to help integrate edge sensors across factory lines, introduce automated efficiencies and enable operational users on factory floors to leverage connected operations. The agreement expands Palantir's signature platform including artificial intelligence and edge capabilities in the manufacturing space.
Driven by Foundry and informed by PENA's expertise, the "Smart Factory" will be utilized across the entirety of the information technology and operational organization within PENA. Using Foundry, the system will guide operational decision-making in their existing Nevada factory as well as the new facility in De Soto, Kansas starting in 2025. This strategic partnership is intended to provide the battery leader with the ability to quickly generate meaningful cost savings and increase return on investment once implemented.
🦾 Xaba and Rolleri Partner to Develop a Cognitive Autonomous Cobot Workcell
Xaba, developers of xCognition, the first AI-driven robotics and CNC machine controller, today announced a collaboration with Rolleri Holding SpA focused on the development of a cognitive, autonomous collaborative robot (cobot) workcell for welding operations in manufacturing. The collaboration enables the integration of xCognition with Rolleri Robotic cobots.
To showcase the benefits of xCognition, Xaba and Rolleri recently completed ISO 9283 tests in Xaba's robotic lab. A FARO Vantage Laser Tracker System was used to acquire all data needed to train the xCognition machine learning model and to validate trajectory accuracy improvements. The successfully completed tests showed 10 times performance improvements in absolute positioning and trajectory accuracy, and five times improvements in relative positioning and trajectory accuracy. As a follow up to the initial tests, Xaba and Rolleri will be undertaking Tig and Laser welding tests to further validate welding quality improvements such as improved accuracy and repeatability.
Planned Downtime
Take a break with a few maintenance activities
Marques gives an honest review of Apple's first-ever spatial computing device, Apple Vision Pro. You can also check him out talking tech with Elon Musk.