Energy Intensive Manufacturing Shapes Economies
The exposure of the global industrial sector to energy supply is not well documented. First, one must identify the linkage between energy production and delivered energy end-use. Going back into the archives of the U.S. Energy Information Administration's 2016 report on the International Energy Outlook gets us closest to answer. According to the report,
The industrial sector accounts for approximately 40% of total OECD delivered energy use from 2012 to 2040. In the non-OECD industrial sector, the share of delivered energy use declines from 64% in 2012 to 59% in 2040, as many emerging non-OECD economies move away from energy-intensive manufacturing, while energy use grows more rapidly in all other end-use sectors.
Next, not all manufacturing verticals are created equal in terms of energy use. Primary metals which includes steel and iron manufacturing require significantly more energy to run equipment like blast furnaces versus other verticals like computer and electronic where machines can efficiently mount components on a circuit board. Understanding the mix of manufacturing within a region or country is critical to identifying exposure to energy supplies.
Which Industrial Manufacturing Sectors are the Most Energy Intensive?
The Food, Pulp and Paper, Basic Chemicals, Primary Metal, and Nonmetallic Minerals manufacturing sectors are the most energy intensive according to the U.S. Energy Information Administration. Chapter seven, "Industrial sector energy consumption", of the 2016 report breaks out each sector into energy intensive or non energy intensive. The tables for each category are provided below with links to each vertical captured by Exponential Industry for further discovery.
Energy-intensive Manufacturing
| Industry Vertical | Representative industries |
| --- | --- |
| Food | Food, beverage, and tobacco product manufacturing |
| Pulp and paper | Paper manufacturing, printing and related support activities |
| Basic chemicals | Inorganic chemicals, organic chemicals (e.g., ethylene propylene), resins, and agricultural chemicals; includes chemical feedstocks |
| Refining | Petroleum refineries and coal products manufacturing, including coal and natural gas used as feedstocks |
| Iron and steel | Iron and steel manufacturing, including coke ovens |
| Nonferrous metals | Primarily aluminum and other nonferrous metals, such as copper, zinc, and tin |
| Nonmetallic minerals | Primarily cement and other nonmetallic minerals, such as glass, lime, gypsum, and clay products |
Non Energy-intensive Manufacturing
| Industry Vertical | Representative industries |
| --- | --- |
| Other chemicals | Pharmaceuticals (medicinal and botanical), paint and coatings, adhesives, detergents, and other miscellaneous chemical products |
| Other industrials | All other industrial manufacturing, including metal-based durables fabricated metal products, machinery, computer and electronic products, transportation equipment, and electrical equipment |
Nonmanufacturing
| Industry Vertical | Representative industries |
| --- | --- |
| Agriculture, forestry, fishing | Agriculture, forestry, and fishing |
| Mining | Coal mining, oil and natural gas extraction, and mining of metallic and nonmetallic minerals |
| Construction | Construction of buildings (residential and commercial), heavy and civil engineering construction, industrial construction, and specialty trade contractors |
Which Countries Are Vulnerable Due to Their Manufacturing Mix?
Germany Export-dependent Model
Germany is the fourth largest country of manufacturing output producing about 7% of all global manufacturing outputs. This manufacturing might is largely dependent on "cheap energy imports and industrial exports into an increasingly globalized world" as stated by Andreas Nölke, a professor of political science at Goethe University Frankfurt. Of course, that model was upended primarily by the conflict in Ukraine where both the cheap energy imports stopped flowing from Russia and exports flat-line as conflicts disrupt the flow of goods throughout the globe. What makes matters worse is that the Germany economy is heavily skewed toward energy-intensive industries likely as a result of having cheap energy imports available to them for a long time. Chemicals (29.3 %), metal production (21.9%), coking and mineral oil processing (10%), nonmetallic minerals (8.1%), pulp and paper (6.7%), and food and feed (5.7%) are all energy-intensive industries and account for a whopping 81.7% of all German industrial energy use in 2020! With a mix so heavily skewed towards energy-intensive industries, German policy must be made to secure alternative energy supplies and keep supply chains running smoothly so exports can continue to flow.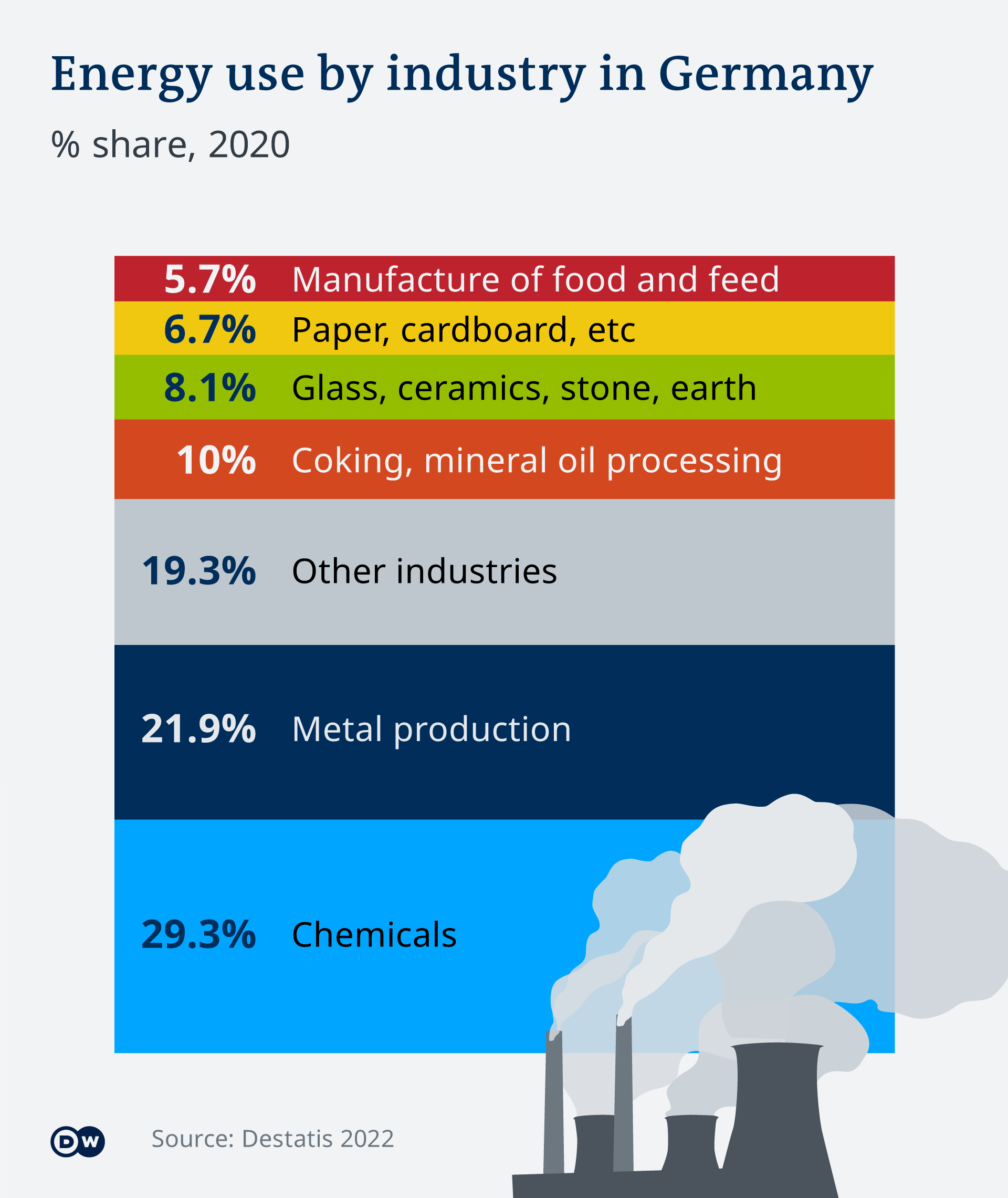 For further reading I recommend checking out Arthur Sullivan at the DW who asks the question, "Is the energy crisis the final nail in Germany's export-dependent economic model?". Also, Martin Wolf from the Financial Times states his opinion on why Europe and Germany and Italy in particular must win the energy war.
Taiwan
On the other side of the world, Taiwan faces energy issues. As an island region, Taiwan relies heavily on imported coal and natural gas for 80% of it's electricity generation. According to Nikkei Asia analysis,
Between July 1 and Aug. 29, the island has witnessed 22 power outages affecting 1,000 households or more, with the worst hitting 17,000, according to disclosures from state-owned Taiwan Power Co. A further eight hit anywhere from 44 to 962 homes. The most frequent causes given for these incidents – which come amid historically high temperatures – include malfunctions of feedlines, power transformers and high-voltage cables.
This affects their energy-intensive and globally critical semiconductor industry leader TSMC. TSMC's foundries consume roughly 17 billion kWh a year which is around 7% of the entire island's electricity generation.
Assembly Line
Capturing this week's trending industry 4.0 and emerging industrial technology media
Impeller Design & Optimization for Additive Manufacturing
Wärtsilä's engineers redesigned the centrifugal pump impeller for additive manufacturing. Not only was the optimized turbomachinery component 44% lighter, but it was generated using an automated design process, enabling customization.
For this collaborative project, engineers from Wärtsilä's additive manufacturing center in Finland joined forces with nTopology, SLM Solutions, and Oqton to create a digital workflow based on advanced engineering design and additive manufacturing technologies. The primary aim of this project was to replace the traditionally cast impeller.
Stray Magnetic Fields and Safety
Bunting is at the heart of the electrification program of the world's vehicles. By producing magnetising systems that allow for genuinely error-free assembly and providing 100% inline testing, Bunting supports automotive and aerospace programmes looking to create new modes of travel and improve efficiency. Bunting is proud to support this sustainable engineering activity to provide a greater level of energy security for all future generations.
During the development of these electric machine magnetising systems, one of the most common questions our customers ask our engineers is: "How can we keep our staff safe from stray electromagnetic fields?".
Shinkei Systems' AI-guided fish harvesting is more humane and less wasteful
Fresh fish isn't really that fresh — even straight off the boat. The way they're caught and killed is not only inhumane but detrimental to the resulting meat. There's a far superior alternative, but it's time-consuming and manual — but Shinkei Systems has figured out a way to automate it, even on the deck of a moving boat and has landed $1.3 million to bring its machine to market.
Ike-jime involves piercing the brain with a sharp spike to send the fish to fish heaven, then quickly exsanguinating it, and after that destroying the spinal cord. Gruesome, yes, but all of these things prevent stress, suffering and the spreading of bacteria and destructive substances through the body. But it has to be done precisely and within a couple minutes of the fish being caught, so it doesn't really scale. That is, unless you automate it, which is what Shinkei Systems has done. The team, led by founder Saif Khawaja, has created a mechanical means of accomplishing ike-jime on fresh-caught fish, at a rate of one every 10-15 seconds.
Behind the Foldable Phones in Our Pockets
TradeLens: Transportation Transformation or Quixotic Quagmire?
TradeLens is the highly publicized blockchain global trade network launched over four years ago by Danish shipping giant Maersk. Beyond the initial hype about eliminating duplicate invoices and digitizing paper workflows, little has been said about it. What was TradeLens all about then, where is it now, and what can we take away from its progress (or lack thereof) to date?
It appears that while TradeLens has made substantial technical and practical progress, success is not a foregone conclusion. The system is far from ubiquitous adaptation, and even industries with high market participation, such as shipping, are not able to utilize the network to digitize trade at scale. In fact, only a miniscule percentage of transactions are conducted on a fully digitized basis.
Deere Invests Billions in Self-Driving Tractors, Smart Crop Sprayers
The company this year is rolling out self-driving tractors that can plow fields by themselves, and sprayers that distinguish weeds from crops. Deere, which helped make satellite-guided tractors ubiquitous in the U.S. Farm Belt over the past 20 years, is investing billions of dollars to develop smarter machines that the company said will make farming faster and more efficient than it ever could be with just farmers behind the wheel.
Build an Anomaly Detection Model using SME expertise
AI improves welding performance
However, fully manual welding simply isn't an option for higher-turnover jobs: Bidding competitively for new jobs often increasingly means using some level of automation. What level, exactly? That all depends, but what's certain is that preprogramming weld parameters never covers all the variables at play.
More than mere quality assurance, it is welding's fundamental unpredictability that Novarc Technologies wants to help fabricators master with the NovEye vision-based, artificial intelligence (AI)-guided control system on its latest Spool Welding Robot (SWR). And while the orbital welding that the SWR does is nothing new, the AI and machine learning Novarc is using to drive the unit is.
"Welding science and engineering … includes many disciplines—from physics, plasma, electronics, electrical engineering, and material science," Asadi said. "All that comes together in a small arc in the weld tool that you are seeing in the tip of the electrode. There are many sciences going on in that small portion. When you formulate something and you understand the physics behind it and all the governing equations, regardless of how complicated the process is, they are more or less following those governing equations.
Capital Expenditure
Tracking this week's major mergers, partnerships, and funding events in manufacturing and supply chain
Litmus Raises $30M in Series B Funding Led by Belden
Litmus today announced it has closed $30M in Series B funding to cap a period of exceptional growth in adoption of its Industrial IoT Edge platform. The Series B was led by Belden with participation from other investors whose confidence in Litmus signals the strength of Litmus Edge as the standard data platform for Industry 4.0.
The new round brings the Litmus funding total from $12.6M to $42.6M and will allow the company to scale sales, marketing, customer support and extend service and deployment to enterprise customers through various go-to-market channels. The company will expand its presence in EMEA and APAC while supporting fast-growing OEM relationships to provide customers with the most complete IIoT Edge platform on the market that unifies data collection, data analytics, application enablement and data integration.
Taqtile Announces $5M Equity Raise Supporting Global Deployment Of Manifest, The Leading AR-Enabled Work Instruction Platform For Industry And Defense
Taqtile, Inc., maker of Manifest®, the leading augmented reality (AR)-enabled work-instruction platform for deskless workers, announces completion of a $5 million preferred equity round. The Seattle-based company will utilize proceeds to increase sales and marketing efforts, reinforce engineering and development teams and increase its global footprint through its extensive partnership network.
ATLANT 3D Nanosystems Secures 15M USD Investments to Enable Atomic Layer Advanced Manufacturing for Electronics
ATLANT 3D Nanosystems (ATLANT 3D), today announced the closure of their capital raise of 15M USD. The round was led by UK venture capital firm West HillCapital and further supported by existing investors including a leading Japanese corporation. The funding is the largest joint Series A round in Denmark outside of life sciences and software.
The funding will be used to get one step closer to ATLANT 3D's vision to create a network-centric smart advanced manufacturing infrastructure based on its proprietary technology and know-how and integrate it in the future with other advanced technologies. ATLANT 3D aims to develop a network of advanced manufacturing hubs – the A-hubs – across the globe to enable a radical innovation ecosystem for next-generation micro and nanoelectronics prototyping and manufacturing.
Modulous raises £10m ($11.5m) to develop the technologies that enable developers, architects and contractors to build net-zero modular homes without a factory
Modulous announced today that it has raised £10m ($11.5m) of Series A funding, increasing its valuation despite the slide in global markets. "Building energy efficient, affordable housing without the waste and carbon footprint that accompanies traditional construction has never been more critical," said Modulous CEO Chris Bone. "Modular delivery is really the only way the housing crisis can be resolved, but, for many, the upfront capital investment has held back the industry's ability to scale.